BETSY FERNEY
2's Teacher
Betsy (she/her) has over 18 years of experience working with young children, most of that spent collaborating with her favorite age group: toddlers and twos. She sees her role as working alongside and supporting very young children as they search for meaning and relationship. Betsy also brings an enthusiasm for books, stories, and the natural world to her work.
Betsy received her Bachelor's degree in mathematics with a minor in French from Linfield College in Oregon, then after finding her passion was working with young children, she earned over 36 credit hours in early childhood education at Durham Technical Community College. She recently completed a Master's degree in Innovative Early Childhood Education through the Colorado University Denver, Boulder Journey School partnership. Betsy lives in Durham with her husband, two school-aged children, and two dogs
Hobbies: baking, knitting, hiking, biking, camping, and spending time with her family.
LAURA CANFIELD
 2's Teacher
Laura (she/her) has always known she wanted to become a mom & a teacher (well, and a ballerina princess, if she's being honest). She's been with Durham Community Preschool since 2019. She has a BA in Psychology and a Masters Degree in Early Childhood Education from George Mason University in VA.
She has taught kindergarten and special ed in public schools. She has been a nanny, babysitter, gym childcare worker and since becoming a mom – she's been teaching preschool! These early years are her favorite age group to teach! 
Laura lives in N. Durham with her hubby of 20 yrs, kids aged 8, 11, & 18 years old, & her tabby cat.
Hobbies: sudoku, family games, puzzles, and burn boot camp.
LAURA REDLER
2's Teacher
Laura (she/her) has 4 years of experience working with children, mainly through Environmental Education programs. Through her time studying Place Based Education in Jackson Hole Wyoming, she found a love for nature-based preschools. Watching children learn and grow through outdoor play and exploration is something she is passionate about! She hopes to inspire children toward a lifetime of curiosity and wonder with nature.
Laura graduated from Virginia Tech with a B.S. in Environmental Conservation in Society in hopes of educating youth ahd adults through public programming. She is now on her journey of finishing her Master's Degree in Place-Based Education and Environmental Education with Antioch University. She is excited to bring this passion to working with preschoolers at DCP!
Hobbies: running, camping, traveling, snowboarding, reading, crafting, and cooking with her partner.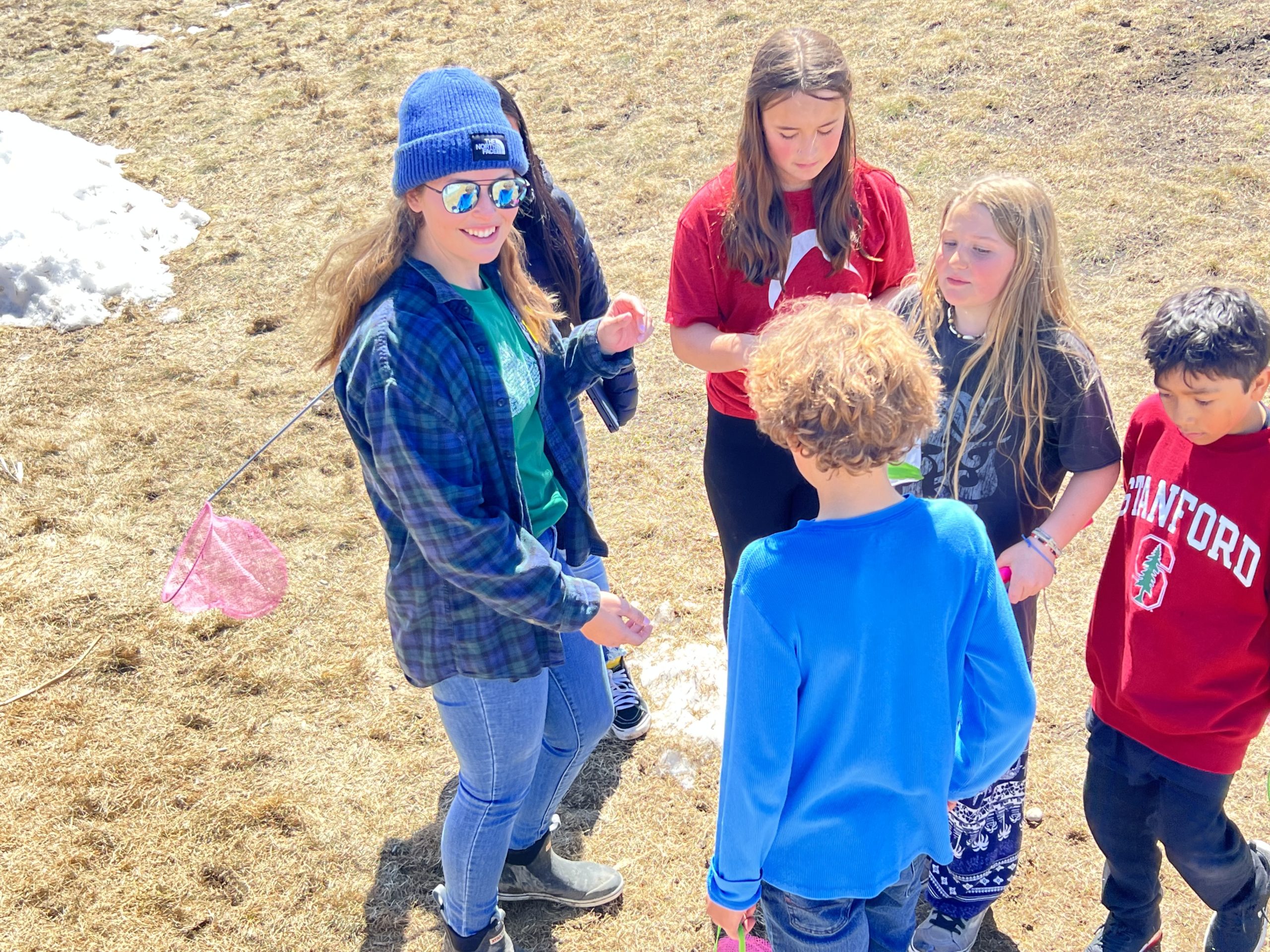 HEATHER WALTZ
3 -5's Teacher
Heather Walz (she/her) has worked in the Early Education Field for 10 years. She first started as a volunteer when in high school before transitioning into a teacher's assistant role, and then a teaching role.
Heather has worked with ages from infancy through kindergarten, and loves working with preschool aged children. She believes learning is a two-way street, and that teachers should be learning with and from their students. When teachers take the time to listen, they can learn amazing things when talking to preschoolers!
In 2019, Heather graduated with a Bachelor's of Applied Sciences in Early Childhood Education and Development from North Seattle Community College. After graduating, Heather moved with her husband and tiny dog to the Durham area to be closer to family and friends. 
Hobbies: Writing, Painting, Reading, playing board games with family and friends, and waiting on her tiny dog hand and foot.
JEN SUNDBERG
3-5's Teacher
Jen (She/They) has been working with children and families since 2009. Jen started as a parent at DCP, then was a Super Sub, and now is joining our team as a Teacher! You may recognize her from sharing her baby chicks with us or the magic behind the sno cone machine last year. Jen brings fun with her whereever she goes! She wholeheartedly believes in creating a warm and safe environment for children to explore and learn. A morning isn't complete if there isn't some messy science play or an adventure outside.

Jen served 3 years in Americorp in a youth outreach program before graduating from Upper Iowa University with a Bachelor's degree in Human Services/Social Work. She continued her education and earned a CSW (Certified Social Worker) and an RBT (Registered Behavioral Therapist). Before teaching, Jen worked at a shelter as a children's advocate and at a behavioral heath center for children on the Autism spectrum. Jen lives in Durham with her partner, two kids, and a bunch of animals on a small homestead.
Hobbies: spending time with her family, homesteading, gardening, camping, and making arts 'n craft messes!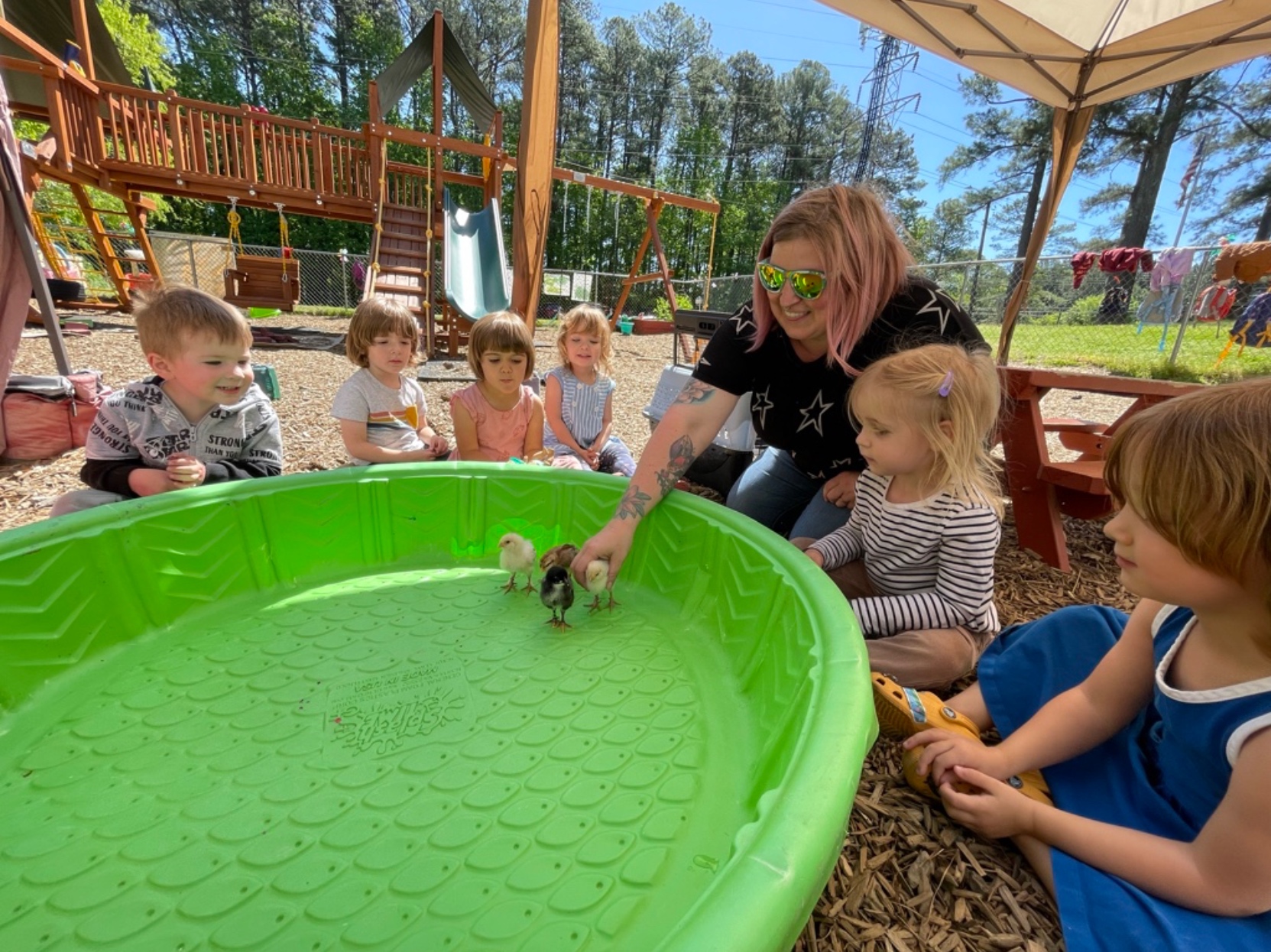 SAFFRON DUNCAN
3 -5's Teacher
Saffron (they/them) has worked in the half-day preschool world for 4 years. They find that music and dance are great forms of self-communication! On weekends, you may find them at the Durham Farmer's Market. They enjoy teaching outside and coming up with fun new games to connect with children.

Hobbies: Handmaking jewelry

VIOLET MACKELFRESH
3-5's Assistant Teacher
Violet (she/her) is an alumni of DCP. She started attending DCP when she was two and has never left! She's been volunteering and helping at DCP through out elementary, middle and high school. She is currently a student at Durham Tech community college. She enjoys building connecting and relationship with the children at DCP. She incorporates Conscious Discipline language into her teaching and has a kind, compassionate heart.
Hobbies: Reading, playing rummy, painting, doing make-up

ROSE VOLPONI
Executive Director
Rose (she/her) joined the preschool in 2006 as a teacher and a parent.  She taught the 2 year old class and then later a mixed age 3 – 5 year old class.  In 2010, she became the Executive Director of DCP and has been a part of all the growth of running a start-up nonprofit preschool – from school development, strategic planning, fundraising, marketing, event organizating, volunteer management, enrollment and more!  She is passionate about providing the best preschool experience to children and helping to support families of young children. Rose has taken leadership roles in local Director groups – the Durham Orange Preschool Association (a member since 2011) and facilitated the Early Childhood Director's Forum at Project Enlightenment in 2021-2023 (a member since 2013). Rose is well-versed in Conscious Discipline attending the week long summit (2017) and the Advanced Institute training (2022) in addition to creating and running Conscious Discipline workshops, trainings and parent classes in the DCP Community.
Rose has a B.A. in Inter-Cultural studies and her family hosted over ten exchange students in her house while growing up! This experience along with being an exchange student herself in three other countries, helped to shape her worldview of inclusivity, openness and innovation.
Hobbies: Hiking, reading, eating gluten-free plant-based food, drinking Boba tea.